I've now returned from a long weekend at the annual Ham Radio exhibition at Friedrichshafen, a beautiful city on the shores of Lake Constance in southern Germany.
The normal way for British people to get to FDH as it has become known, is to fly to Zurich and take the train to Romanshorn before then getting the ferry across the lake. Instead, M0WUT and I opted to fly to Munich and rent a car, so we'd have our own transport for a few SOTAs on the Sunday and Monday.
There are a lot of very easy summits near the rally. There are two just about 30 minutes north of the town, DM/BW-854 and DM/BW-358, which we did on the Monday. Most activators also head west to the area around Tuttlingen, where there are a number of other very quick activations in the DM (Germany – Low Mountains) SOTA association. Indeed, I had planned a comprehensive route around those hills for our trip but with the weather forecast to be hot and sunny, Dan and I instead headed east towards the Alps.
DL/AL-049 Kühgundkopf
The 8-point Kühgundkopf is about a 90 minute drive from Friedrichshafen in the foothills of the Alps. It hadn't been activated for five years and there was relatively little information to judge how difficult the summit would be from SOTA sources, other than DF3MC's track on the SOTA maps site. A bit more searching gave a few more clues but also more confusion: many sources will tell you that this mountain, which straddles the German and Austrian border, has two names (Kühgundkopf in German and Wannenjoch for Austrians). However, on the ground, the signposts are clear that Wannenjoch is the promontory with a cross on it just below the summit, while Kühgundkopf is the highest point (at coordinates which match the location in the SOTA activation manual). Google Maps, meanwhile, has
Kühgundkopf marked at the location of Wannenjoch. If that isn't complex enough, many descriptions of the walk say that this is a really strenuous, difficult walk requiring climbing gear. But that's only true if you are doing a popular circuit with Iseler. The walk only as far as Kühgundkopf is fine.
Despite the forecast good weather, the rain and drizzle became increasingly frequent as we approached the mountains and we were starting to doubt our choice but it fortunately dried up in time for the start of our walk. The cloud didn't lift for the ascent, however, which meant that we missed out on some spectacular views. A further problem was that most shops are closed on Sundays, and so we didn't come prepared with any lunch. Fortunately, a small convenience store in Schattwald, the first village into Austria, was open for 2 hours on a Sunday morning (10am-12pm) and so we purchased enough to make sandwiches.
As I described, this mountain straddles the border and in fact the path up it starts from the Austrian side. You start in Schattwald in the large carpark at the foot of the chairlift (47.5119, 10.4596). This cost a very reasonable €3 for a full 24 hours. Follow the yellow signposts initially from the carpark to the top of the chairlift (signposted Bergstation -Wannenjochbahn). This is an easy, gravelled, path through the trees to the head of a stream, where you take a sharp right turn (again, signposted) onto a slightly narrower, but still quite obvious path.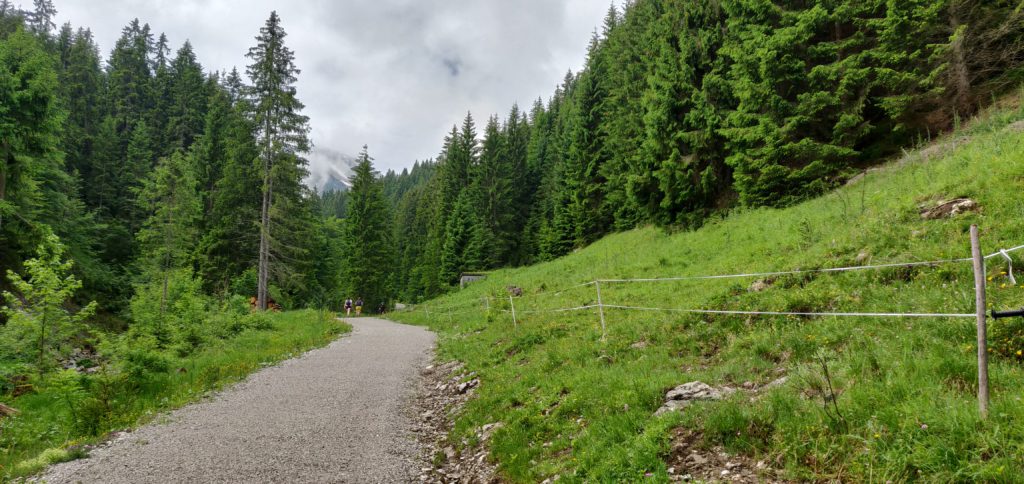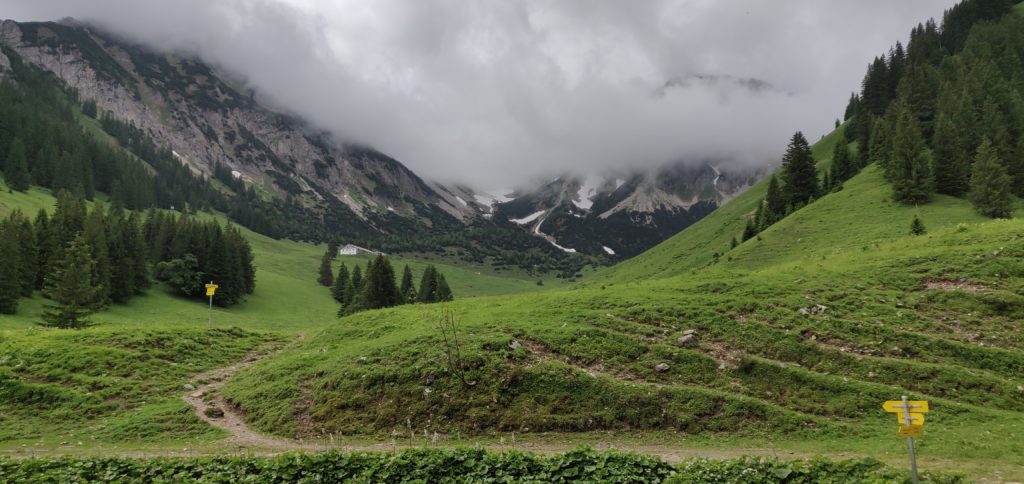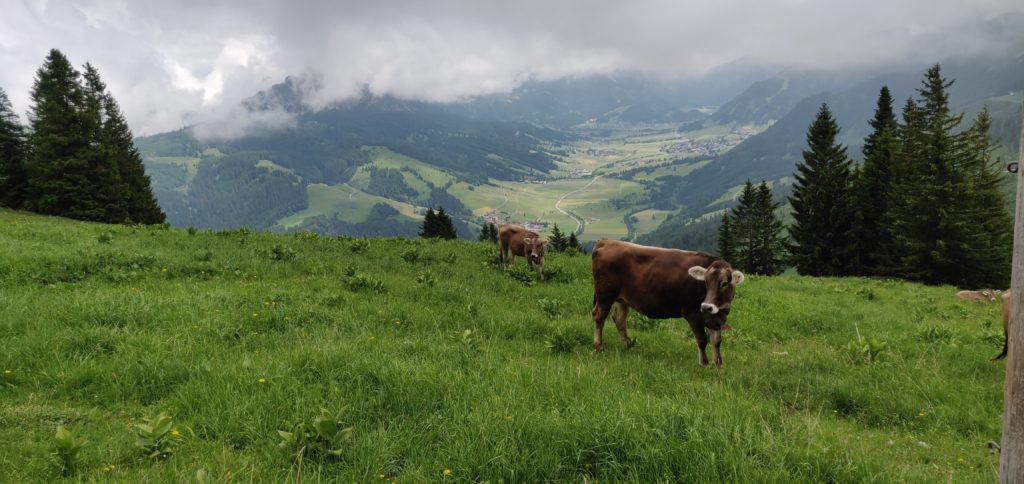 The path eventually comes out at the top of the chairlift, where there's a restaurant (although the service here seemed to be non-existent). There's also a spectacular view back down the valley.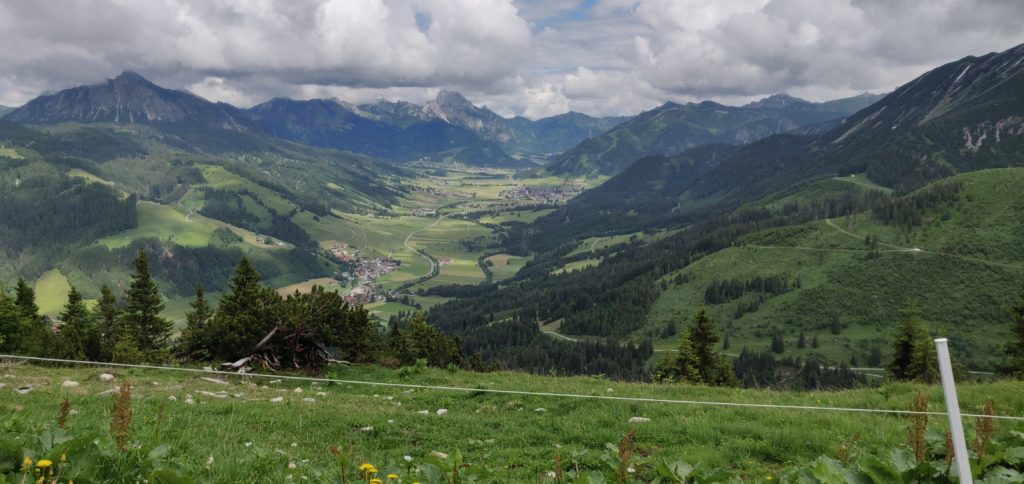 The chairlift's top is only about two-thirds of the way up the mountain, however, so we needed to press on into the cloud and continue climbing. Again, this is just a matter of following the signs to Wannenjoch. The path becomes narrower and with slightly more loose stone and dirt but it's still relatively easy walking without particular difficulty.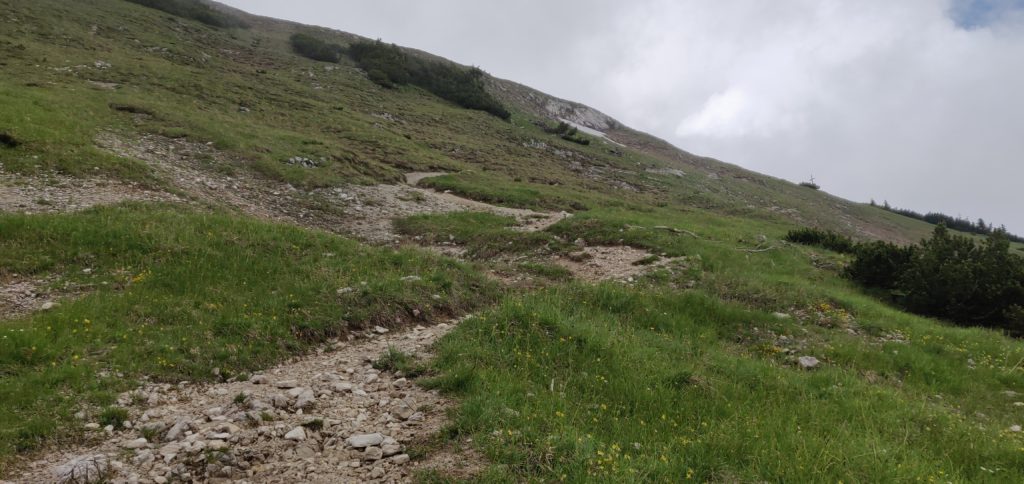 You soon enough come out to the large wooden cross at Wannenjoch. There's a metal box attached the cross, which contains a visitor's book and collection of pens for you to mark your visit for posterity, before heading on to Kühgundkopf.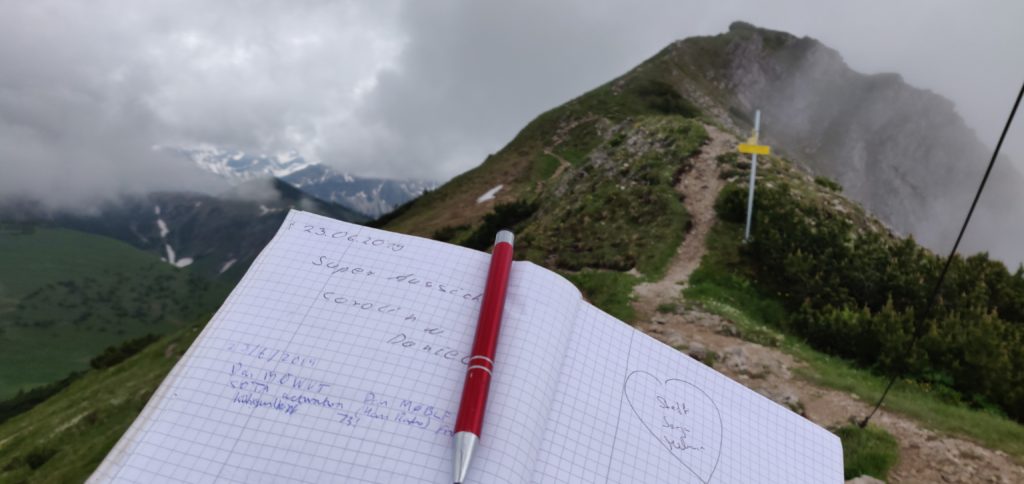 As the photo above suggests, the final ascent to Kühgundkopf is along a short section of ridge. It's fairly wide and didn't feel unsafe but it is a long way down, so you do need to watch your footing a bit. Once again, it's clearly signed to Kühgundkopf, so there's little chance of going wrong. By the way, the path here is the border, so you'll probably have one foot in one country and the other foot in another country as you walk along here!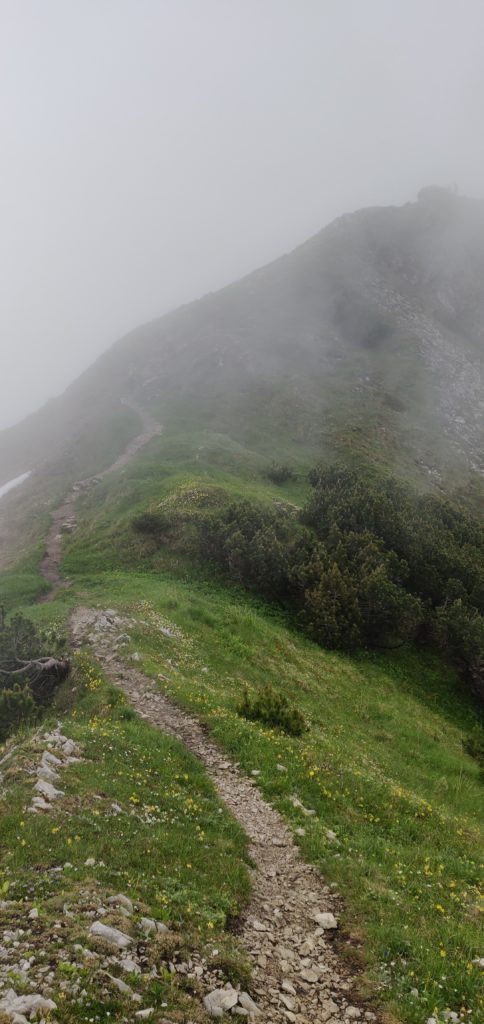 At the top, there's a trig point. There's also a little grass space to set up an antenna just below the path. We got occasional glimpses of a spectacular view as the cloud came and went. On a clear day it would be amazing up here!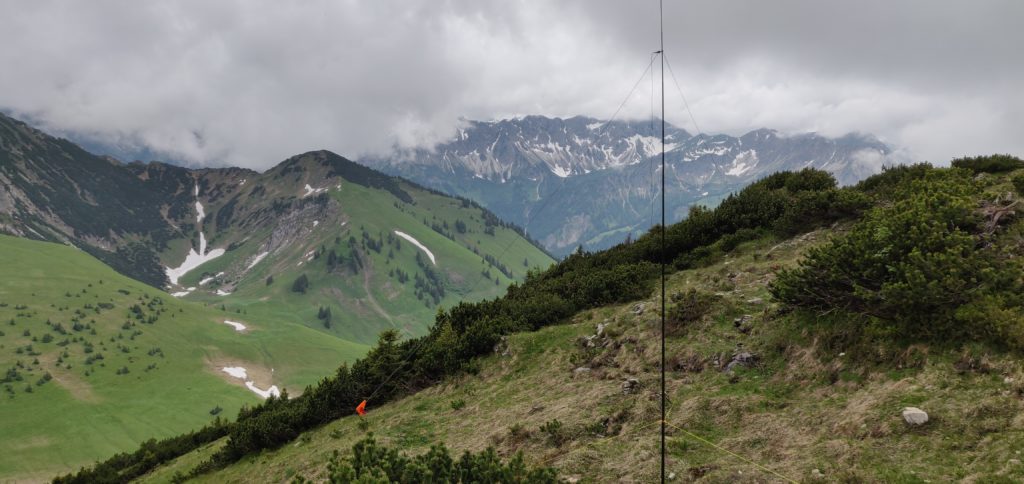 Between us, Dan and I made 19 QSOs on 20m CW. This is a great introduction to Alpine SOTAing, and I'm so glad we opted to do the longer, more serious, walk for the eight points than to have got potentially more points for less reward to the west of FDH.
The walk totals about 7.9 miles / 13.3km and climbs from a starting height of about 1100m to the summit at 1907m. The ascent took 2 hours and 20 minutes, and the descent took 1 hour and 50 minutes. This means that, having started our hike at 09:00 UTC, we were back at the car by 14:20 UTC, with plenty of time to tackle another (smaller) hill.
Total distance:
13353 m
Total climbing:
1209 m
Total time:
05:15:10
Download
DL/AL-181: Burgkranzegger Horn
Bergkranzegger Horn is just off the main road back to FDH, situated about 20 minutes north of Kühgundkopf, making these an ideal pair to do together.
The starting point for this one is just outside the village of Mittelberg (warning: there are some very narrow streets in this village!). We parked in a layby at 47.6358, 10.4236 although the carpark at 47.6347, 10.4207 might be more suitable. From here, it's an easy walk along the road, which quickly degrades into a track. It's a simple matter of following this path, upwards, alongside the fields. We stopped at a fence just before the summit but easily within the activation zone of this two-point hill.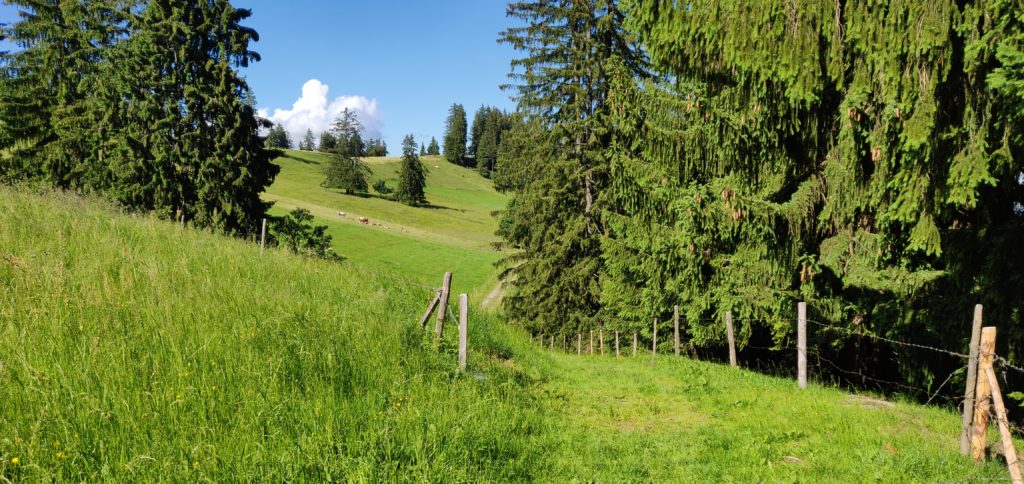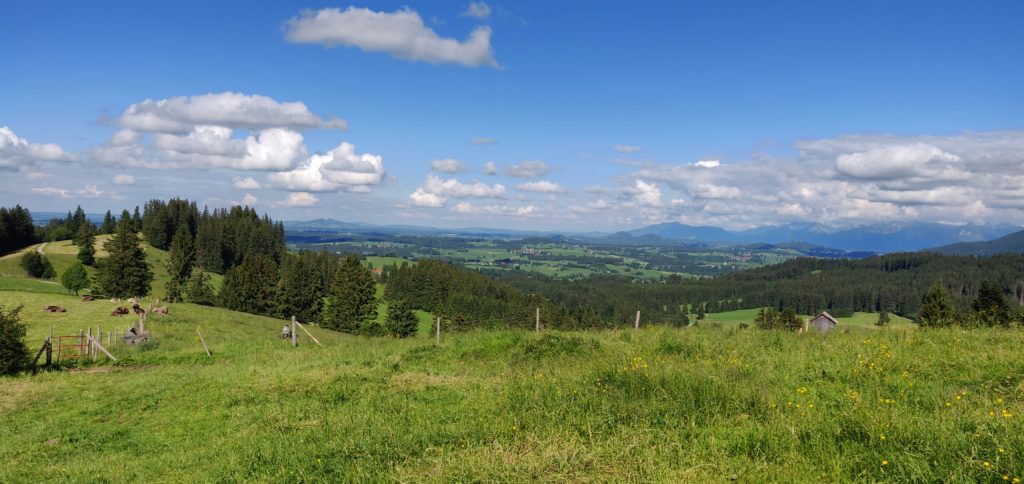 This is a very quick 2 mile walk, taking just about 30 minutes to reach the top, after just about 120m height gain. The difficulty came instead from an unexpected source: the cows in the fields all have cowbells, and they were very interested in our operation. Unfortunately, one of these cowbells was exactly the same frequency as our CW sidetone, making it not only incredibly noisy, but also almost impossible to hear what you were sending!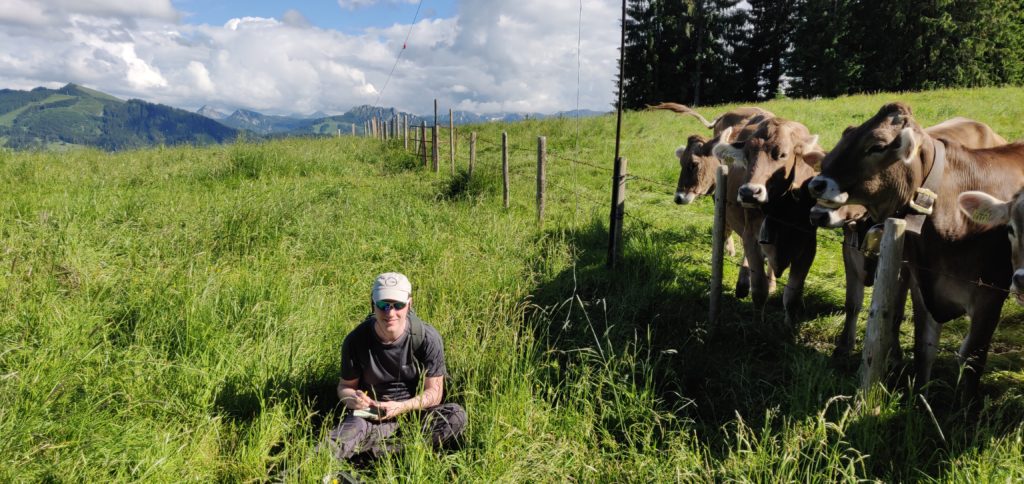 Conditions were also a bit tougher from this lower altitude and between us, M0WUT and I made just 10 QSOs on 20m CW. It also turns out that cows are rather partial to licking fibreglass poles, so packing down also had its challenges!
Total distance:
3487 m
Total climbing:
235 m
Total time:
01:26:46
Download
After a tiring but rewarding day, and with the sun now out, we arrived back in Friedrichshafen in time for dinner before tackling some of the nearby hills the following day (Monday).