The island of Chiloé is a large island, just off the coast at Puerto Montt. Currently, it is accessible only by car ferry (a one-way crossing with car was about £11) but a bridge is under construction and due to be completed in 2020. Judging by the graffiti and posters I saw, it appears that the locals aren't generally in favour of the bridge, fearing that it might destroy the island's identity.
I'd been planning to camp on the island but the campsites I emailed didn't give timely responses, and after the problems I had had with campsites so far, I opted for a cheap hostel in Castro (the island's capital) instead. For about £20/night, this was perfectly adequate although I was fortunate to be moved from a tiny double room that smelt rather musty to a much nicer three-bed room. The downside was that the new room was right next to Ruta 5, which was busy all night.
Castro is a busy, commercial centre (and driving was no easier than in Valdivia) but once here the area around the port especially is quite pretty. Castro is also famous for its palafitos – houses built on stilts in the sea. Many of these were destroyed by the tsunami that affected the region in 1960 but some have been rebuilt.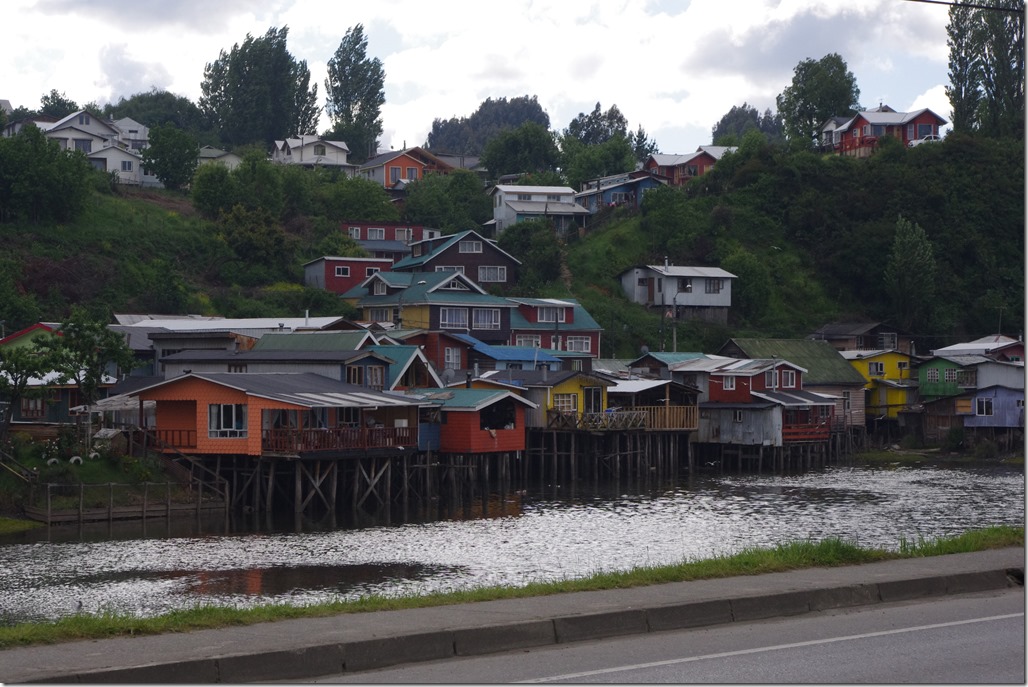 By the way, should you ever find yourself in Castro, and if you like seafood, definitely pay a visit to Nueva Galicia by the harbour, recommended to me by the hostel owner. Their cuaranto was exquisite. If you don't like seafood though, don't bother – there were no other options on the menu!
Jesuit churches
Other than the palafitos, the other reason for coming to Chiloé was to see the Jesuit churches. Dating from the original Christianisation on the island by the Jesuits, sixteen of these wooden churches survive and all are UNESCO World Heritage Sites. Although now used for Catholic rites, the simplicity of these buildings is in stark contrast to most Catholic churches, such as the Cathedral I saw back in Iquique.
Dalcahue
The church in Dalcahue was the first that I visited when I first reached Chiloé, on my way to Castro. This was on Monday afternoon and (despite my guidebook saying that the churches are open every day), it turns out that Monday is the day most of the sixteen do close. So I wasn't able to see inside.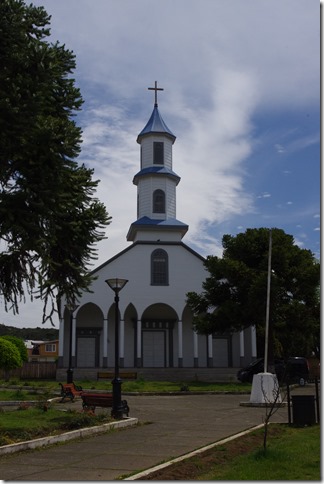 Castro
The church in Castro's main square
Chonchi
Chonchi is a picturesque little port town about 16km south of Castro.
Nercón
At the recommendation of the hostel owner, I also stopped in the tiny hamlet of Nercón, on Ruta 5 just on the outskirts of Castro. It was a good recommendation, as I wouldn't have realised I was so close to this church otherwise.
Sadly I didn't get to do quite as much as I'd planned on Chiloé, and in particular I wasn't able to operate radio from here as I'd hoped. The reason was that I discovered my hire car had developed a flat tyre, which caused me to lose a morning. If it had to happen anywhere, though, it couldn't have happened in a better place – about 50 metres from a tyre repair centre, who charged me the princely sum of 2000CLP (about £2) to remove the tyre, repair it, pump it back up and re-fit it. I've never before given a 50% tip, but I think in this circumstance it was well-merited!
Islotes de Peñihuil
Before that episode, it was also good to catch up again with Andy and his wife, whose path I'd crossed up in San Pedro de Atacama. They strongly recommended a visit to the penguin sanctuary at Peñihuil, which (having confirmed that the road there was surfaced, given the tyres!) I was able to visit on my way back. You aren't allowed onto the islands themselves, and the number of tourist trips per day is regulated, but for about £6.50 you can get a half-hour boat tour of a few colonies on the islands just off the coast. I arrived just before a boat was due to leave, and so I didn't have time to get organised (in particular, change the lens on my SLR) but I got plenty of video, from which the image below is a still. We got to see both Humbolt and Magellan penguins, which are fascinating creatures. Well worth the slight diversion.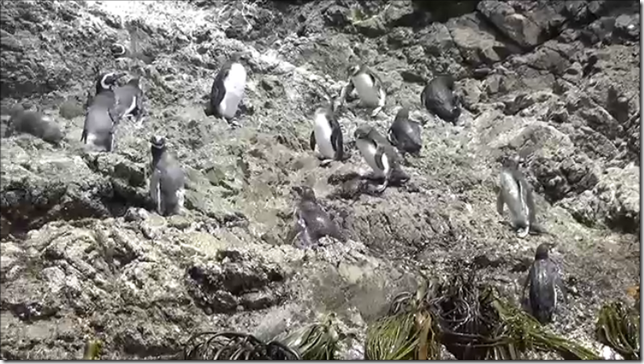 This is quite literally where my road comes to an end. Just south of Castro, in the town of Quellón, the Pan-American Highway finally meets the sea. Its place is taken by the somewhat more infamous Carretera Austral. Pinochet's great project, and still partly unfinished, this is the road that travels south through Patagonia. It's renowned for being both scenic and difficult, mainly unsurfaced, with dangerous bends and hundreds of kilometres between petrol stations. Although I did briefly consider taking on the challenge, my more sensible side prevailed. It probably wouldn't be wise to tackle the road alone without more experience. (Incidentally, for those who watched the ill-fated BBC Top Gear Christmas Special from Patagonia, the Chilean parts of that were largely filmed on the Carretera Austral, which gives an idea of what it's like!)
So, in the next leg of my journey, I'll give up the hire car and switch to a cargo ship for the journey down through the Patagonian fjords by sea. It should be quite an experience! Hopefully the weather will stay settled.