I was up early, despite the long walk around Y Garn and Glyder Fawr yesterday, ready to head on another double-hill day, walking around Carnedd Llewelyn and Pen Llithrig y Wrach.
The car park for this one is in the entrance to the campsite at SH685602. The campsite allows non-residents to park in the layby at entrance for £2/day; payment is taken at the campsite reception.
After parking, walk a little bit along the pavement beside the A5 then head up the steep tarmac private road all the way to Ffynnon Llugwy reservoir. Just before the reservoir, the path splits away from the road and you see the route up the side of Bwlch Eryl Farchog ahead of you.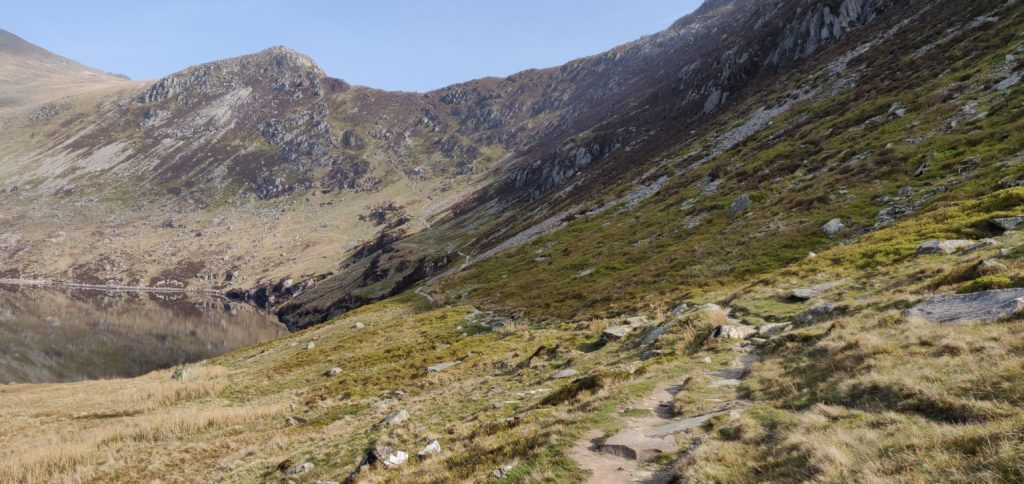 The path up here is hard work. It's narrow and steep and I had to pull myself up in a couple of places. There were only a couple times that I felt concerned about tackling the route on my own but it needed a lot of care and I would probably think twice about doing it without a companion in the future.
Once you are on top of the ridge, you can turn left (north-west) for Carnedd Llewelyn or right (south-east) for Pen Llithrig. I duly turned left towards the first hill of the day, which lies beyond the Craig yr Ysfa rocks. On the OS map, it looks as though this is a perfectly reasonable path and indeed a couple behind me did make it through… For me, however, I didn't feel comfortable continuing. Perhaps it was the hot day or the fact that I was still slightly worried by how much harder the route up to the ledge had been than I had anticipated, or a combination of both, but I didn't feel safe to climb over the rocks with a steep drop below on my own (and then to return via the same route).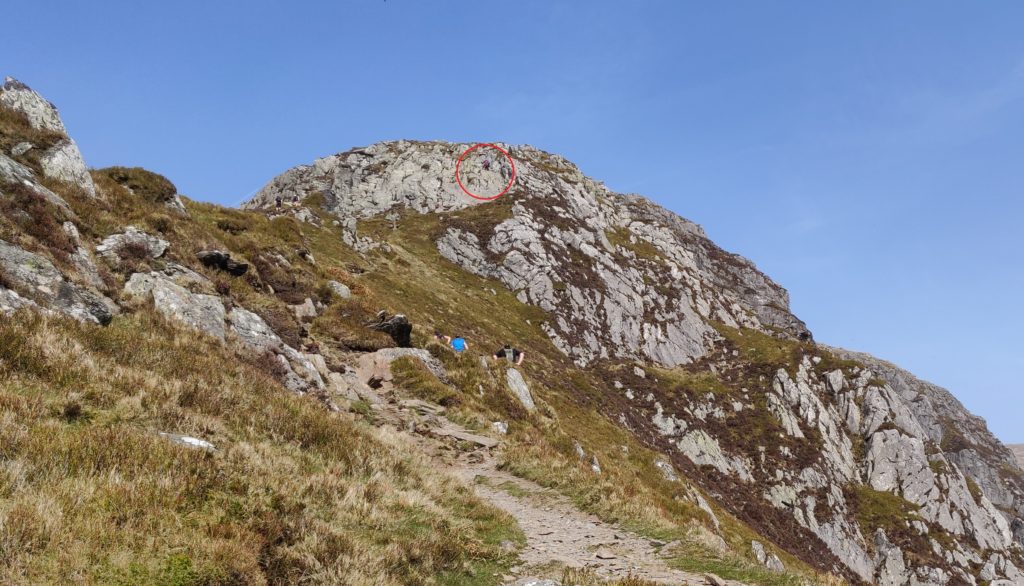 So, Carnedd Llewelyn remains on my to-do list, probably next time taking the longer walk in from the north-east. Instead, I headed back along the ridge towards Pen Llithrig.
Around SH696630, the path follows a contour line but it also requires a lot of care (although I felt it a better option than trying to descend back down to the valley below). You are walking on loose slate fragments on a narrow path only maybe a foot wide. Already feeling concerned that I had bitten off more than I could chew, I put all my effort into watching my steps and forgot to navigate, thereby taking myself further away from the route to Pen Llithrig than I had planned. For the same reason of concentration, I don't have any photos of this part of the route. Once I had realised what I had done, I had to continue until the slate face above me gave way to less steep grass sides of the hill (at SH697626) that I could clamber up and get myself back on track.
Soon enough I was back in more comfortable territory on the flat grassy top of Pen yr Helgi Du (not a SOTA summit). From here, the walking was much easier: there's a slightly faint path that leads east from the hilltop down to the col and across to Pen Llithrig.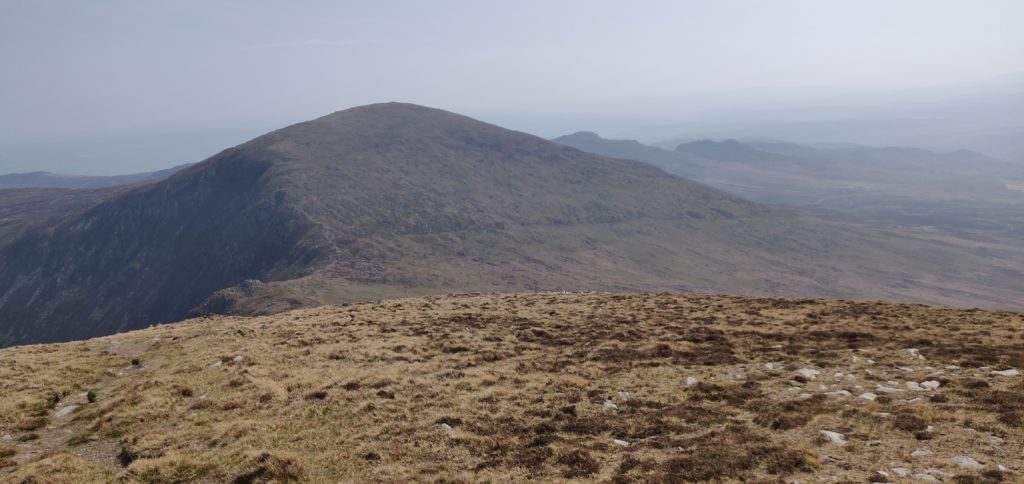 As the photo above suggests, the top of Pen Llithrig is flat and uninspiring, meaning it has a large Activation Zone for SOTA purposes. Exhausted from the grueling walk, I spent an hour here to have lunch and make a number of QSOs both on 2m FM and 30m CW (the only HF activation of the weekend). On 30m, I found the Swiss SOTA crowd were out in force with 3 HB summit-to-summit contacts in succession! By the way, Pen Llithrig y Wrach is GW/NW-013 and is worth 6 points.
From the top of Pen Llithrig, I returned to the car by heading straight down the south-eastern side of the hill (there is no path), until I intersected the leat at SH704615. A path runs alongside the leat all the way back to meet the road at SH690609, although be aware that it has a number of stiles along the path, many of which are in a state of disrepair.
Were I to do Pen Llithrig on its own again (without attempting Carnedd Llewelyn), there is a safer, simpler route heading up Y Braich from SH700607. This would then join up with my route on top of Pen yr Helgi Du, and form a nice circuit that way.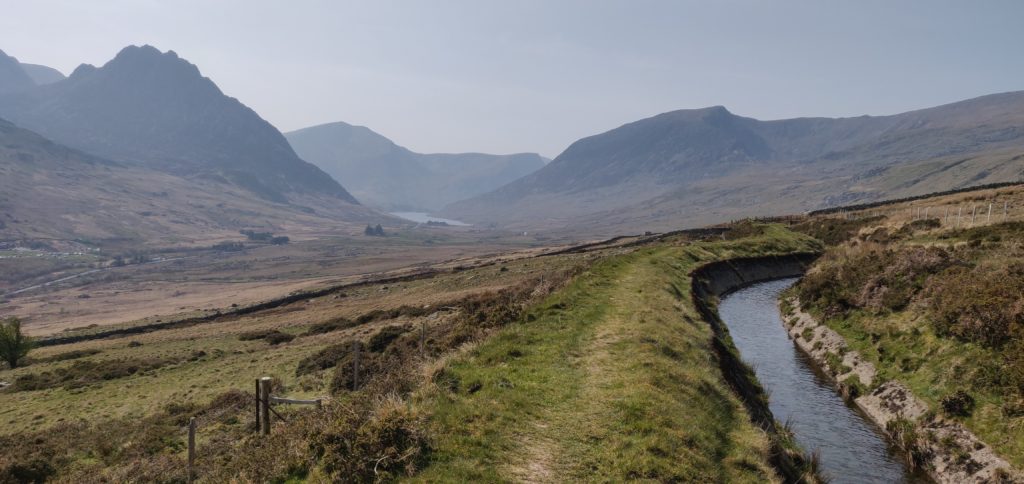 With my inefficient route, this walk totalled 9.5 miles with 4612 feet of ascent (no wonder I was tired!). It took me 4 hours and 10 minutes to reach the top of Pen Llithrig and 1 hour 50 minutes to get back down to the car park. I'd have an easier walk, fortunately, on Cadair Berwyn tomorrow.
Total distance:
15416 m
Total climbing:
1406 m
Total time:
07:00:00
Download