In August 2017, I spent a few days doing some of the Summits on the Air summits in the Pyrenees.
Monday 31st July
Trône du Roi (F/PO-187): Attempt 1
After flying into Toulouse and getting a hire car (which took an unexpectedly long time), I drove to the Trône du Roi (King's Throne) to operate, again this took a longer time than I expected. From what I'd read before leaving, Trône du Roi is a relatively easy two points, and wasn't far from my hotel, making it an ideal option for a late afternoon activation before checking-in.
I made a basic error, however. In my haste to get through the airport and on the road as quickly as possible, I'd forgotten to pick up water. When I got to the hill, therefore, I not only found myself lacking hydration on a relatively warm afternoon, but I also realised it was rather later in the day than I had expected. I got to the 1000m elevation point (about a third of the way up) and then decided to head back down. I'd at least stretched my legs before tomorrow.
Tuesday 1st August
Pic d'Estremère (F/PO-129)
Today started with a reasonably early start, as I wanted to do two big (8 point) mountains on the Spanish border, and my hotel was already 1.5 hours away from where I'd need to park at the Col du Portalet.
Getting there was no problem and I was soon on my way up the Pic d'Estremère. On the face of it, this is another fairly easy option. It's right next to the car park at the former customs post and – on the map at least – there are some obvious paths to the top. The reality was that it was rather steeper in places than I had expected, and certainly one that needs hiking poles. The bigger problem was that the paths were less easy to find than I had expected, other than the big GR10 cross-Pyrenees route, which doesn't actually go to the summit. On my ascent, I made the mistake of not staying on GR10 for quite long enough and ending up on a particularly steep face instead, from which I had to make a quick retreat. Nevertheless, I eventually picked my way to the top and, once there it's a lovely operating site. There's lots of space within the activation zone and there was nobody else on the mountain at all. I was quickly into a decent pileup and, despite the odd problem with the antenna falling over, it was a very pleasant activation. As with all my contacts during this trip, I was exclusively on 30m CW.
Soum de Grum (F/PO-149)
After returning to my car for lunch, my plan had been to tackle the Pic d'Anéou, just on the other side of the road from the Portalet, another 8 point mountain. By now, it was getting quite warm, however, and I had also read that there's a tricky section requiring poles near the summit… and one of my poles had broken on my way up Estremère! As a result, I decided to switch to my Plan B: the Soum de Grum. This is about a one hour drive from the Portalet, enough time to crank up the air conditioning and cool down before starting another ascent.
The main website I used to research routes, Topopyrenees.com, describes (in French) the Soum de Grum as being a nice easy walk, suitable for children, up decent paths from the car park at the Col d'Aubisque. If that name sounds familiar, the car park has been the site of many iconic Tour de France mountain-top stage finishes.
The website wasn't wrong at all. However, as I'd been driving, clouds had started to form and, by the time I was on the Aubisque, visibility was almost nothing. Despite this, I had no problem at all with following the path and finding my way to the summit of the Soum de Grum very quickly. The path isn't particularly steep at any points, and you don't need to use hands. It is also perfectly possible to do without poles.
Once there, there was relatively little space on a bit of a ledge, although this may have partially been by sensation as I couldn't see where the sides of the mountain were in the fog, and so I was playing it a bit safe. Consequently, I found myself operating with the dipole almost lying along the ground, but it still wasn't a problem to get the required four QSOs and make my way down. In fact the most challenging part of the activation was still to come: driving down hairpin bends with steep drops if you misjudge them, in an unfamiliar car in limited visibility is rather more difficult than walking along a clear path!
(Note: I got the summit reference incorrect in this tweet: F/PO-149 is correct)
Wednesday 2nd August
My original plan for the day had been to climb Pic Lasnères (F/PO-138) and Mardas (F/PO-126) in a loop, following a combination of the routes described at Pic Lasnères and Randonée Lac du Montagnon. Mardas would have been a first activation and looks pretty do-able (although note what the description says about needing poles on the way down).
These mountains are reached from the village of Adyius and following a path over 6.5km to the parking place. When I got to Adyius, however, the road was blocked both by preparations for a local fête taking place that day and a more permanent sign indicating no entry except to residents. In my hire car, I wasn't prepared to take the risk of going down a track I wasn't supposed to be on.
Luckily, the Trône du Roi, which I'd failed to activate on Monday, wasn't too far away, so I turned around and went there instead.
Trône du Roi (F/PO-187): Attempt 2
The Trône du Roi is reached along about 3km of slightly rutted, gravel (not tarmac) track. It's not bad, however, and I didn't feel concerned about doing in the car.
This time I had plenty of water and, at this point in the morning, plenty of time. As I climbed, the temperature became steadily hotter and by the time i reached the summit it was in the high 20s Celcius. I was actually rather glad that I hadn't been able to get to Lasnères and Mardas, as in such heat I think the loop might have been a bit difficult.
The path up the Trône du Roi was initially under trees and some of the stones were a little slippery in the morning dew. Once out of the trees (and under the heat of the sun), the path climbs steeply and fairly unrelentingly for its whole length. I never felt in danger but there are places where it's fairly close to the edge of the mountain, so you definitely need to watch where you are going, both on the ascent and descent.
The summit itself was much more uncomfortable. This is another fairly narrow summit with steep drops off the side, it was fairly busy with people, covered in sheep droppings and with swarms of flies everywhere. You can even see some of the flies in the tweet below.
In addition to the lack of space, I felt an inexplicable amount of vertigo up here (probably brought on by the heat and disorientation caused by the flies, which were crawling all over my face, in my mouth and even getting stuck in the CW paddle!). Trying to guy my SOTA pole would probably have resulted in it falling off the mountain even if I could keep it away from other people, so I literally lied the dipole legs along the grass and hoped the elevation would do the rest. It did, and as soon as I had four QSOs, I was off the summit as quickly as possible.
Issarbe (F/PO-171)
By now, I was feeling pretty tired in the heat of the day, so I opted to drive a bit further to bask in the air conditioning(!), heading to Issarbe. Before coming to France I'd not only come up with my Plan A list of targets, but also a list of other options. From that research, I knew that Issarbe should be potentially one of the easiest 4-point options in the Pyrenees chain. Issarbe is a ski resort, and so has a decent road leading nearly to the summit. In summer, reaching the summit is just a matter of a short walk up the ski runs and then a couple of decent paths to get you into the activation zone. That's exactly what this mountain proved to be like, and I had a wonderful short activation making a lot of contacts. There's plenty of space for putting a dipole out here.
Over the course of the 20 minutes or so that I was operating, I gradually became aware of a cool wind starting to blow up and shadows becoming weaker. Looking up at one point, I realised that a repeat of yesterday was underway – cloud was forming in the valleys and starting to convect up the side of the mountains. There was a risk that we could plunge into near-zero visibility once again and, although I was happy enough at my ability to follow a ski run back to the car, I didn't really want to do another drive down a mountain in such conditions. As a result, I had to stop while people were still calling (something I try not to do) and quickly pack up.
A few minutes after the photo below was taken, you couldn't see the ski station buildings from the summit.
Friday 4th August
Miramont (F/PO-238)
After a rest day on the beach, my original plan had been to return to Toulouse via Pic de Cau (F/PO-260), a nice-looking 2-point hill just off the motorway. Unfortunately, I'd been unable to to find any details as to how long the walk was likely to take, where best to park, etc. After the issues I'd had at the airport on my way into France, and with some stories in the press about extra time being needed for passport controls in France, I didn't want to take the risk of being late, so instead I decided to go to another of my Plan B options: Miramont.
Although only one-point for SOTA, it's a nice easy one. Just off the main road from Tarbes to the pilgrimage site at Lourdes, drive into the village of Julos and walk up a track to a mobile phone base-station site. That's really all there is to it. I set up the station just outside the transmitter compound (still easily within the Activation Zone) and within just a few minutes had a nice small pile-up.
Just for reference, speaking to a local tractor-driver, the 'approved' parking place in Julos is on the gravel area between the two trees in the photo below (where my hire car is), right at the start of the track up Miramont.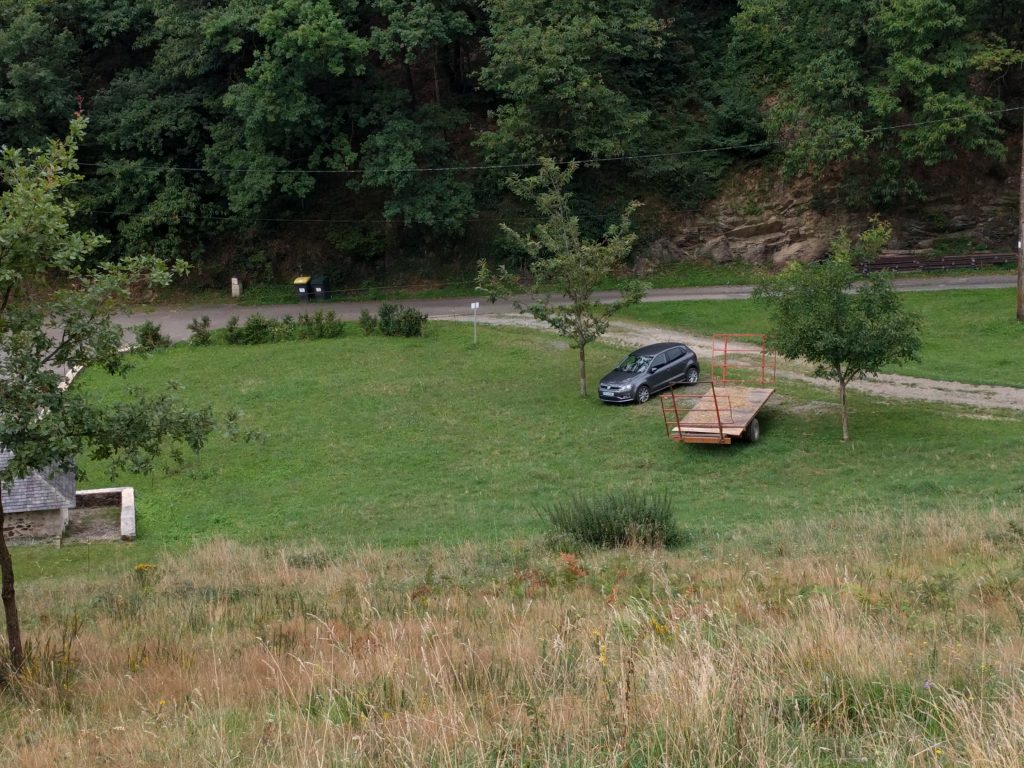 Overall, this was a wonderful trip. Although I didn't get to everywhere I'd originally planned, I had a very pleasant time in the mountains and bagged 35 SOTA points in three days.