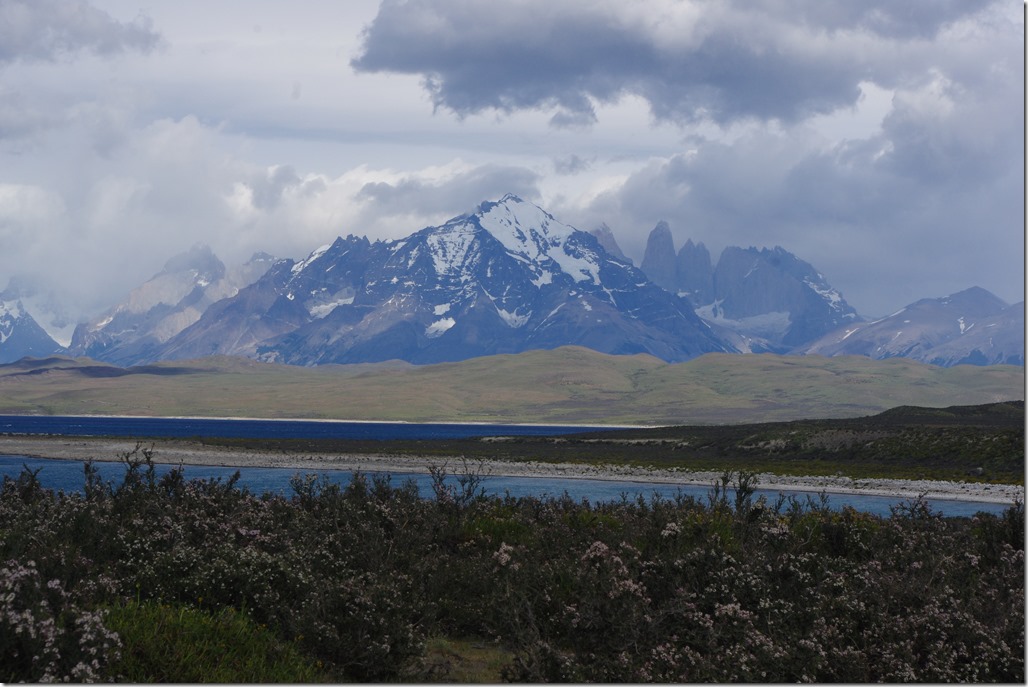 I'd been expecting to start this blog post with something like 'Torres del Paine is justifiably known as the jewel in the crown of Chilean National Parks, and I'd have liked to have spent more time here'. Not so. Whilst it is truly spectacular and I'm definitely glad I made the excursion to see it, I have to say that the one-day tour was probably adequate for me. Let me explain why…
I took a one-day full-day excursion to the park with Comapa, which I can't fault. Our guide and the organisation of the trip were excellent. The trip started with a visit to the viewpoint into the park at the Sarmiento lake, which is where I took the photo above. After that, we had to pay the rather exorbitant entry fee into the national park: £18 for foreigners. Admittedly, this does give access for three days, but it seems a bit much for just a few hours.
On our way into the park, we did get to see some of the wildlife for which the area is most famous. Guanacos were nearly ubiquitous and we also got to see rhea and a couple condors flying over our bus.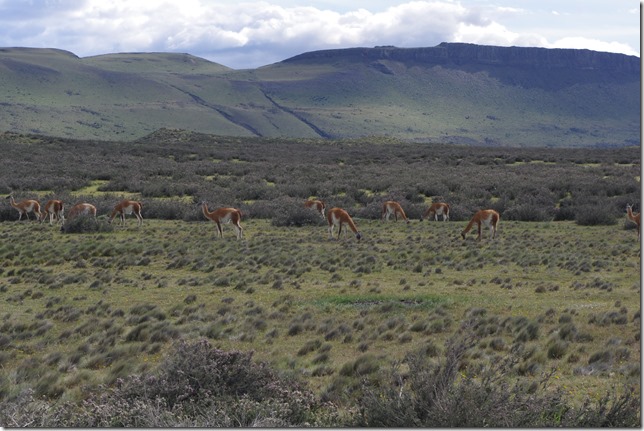 Salto Grande
The next stop was the Salto Grande waterfall at the end of Lago Nordenskjöld. This is a beautiful waterfall, but rather smaller than its name suggests. It's also known as an exceptionally windy place, and today was no different. It was very difficult to stand up in the gale that was blowing, and the gravel from the path was flying everywhere, making even trying to stay still quite painful on the face.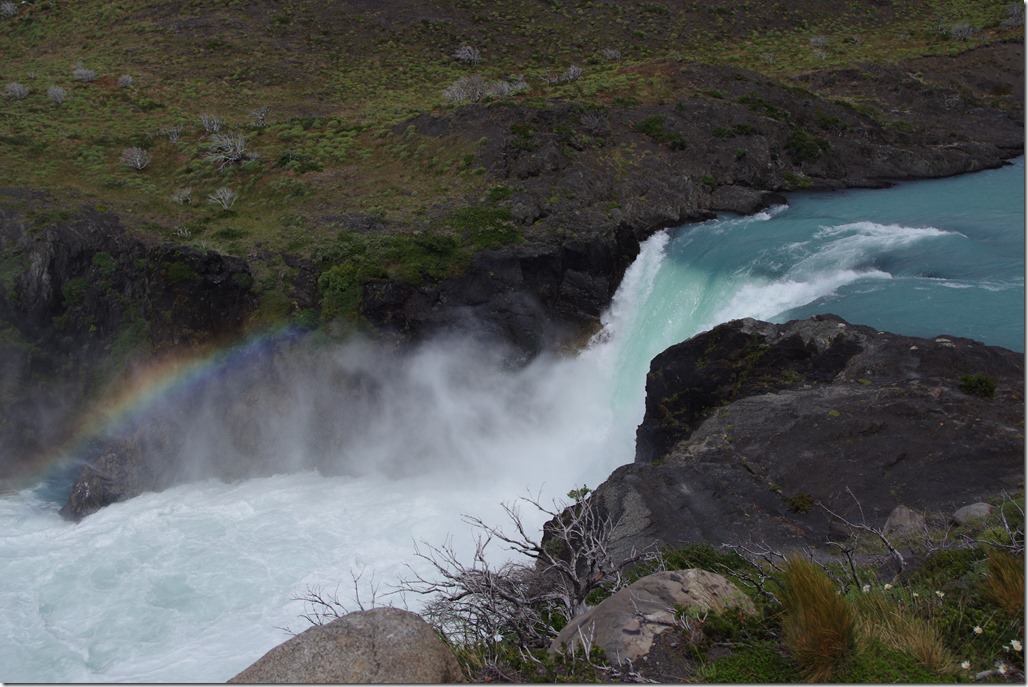 Lago Pehoé
We stopped to eat our packed lunches at Lake Pehoé, just downstream from the waterfall. This was a less windy location, with very handy shelters to eat in. It's also a campsite, although there was only one tent visible. Most people seemed to be eating in the restaurant, or photographing the rather docile doe who was wondering around.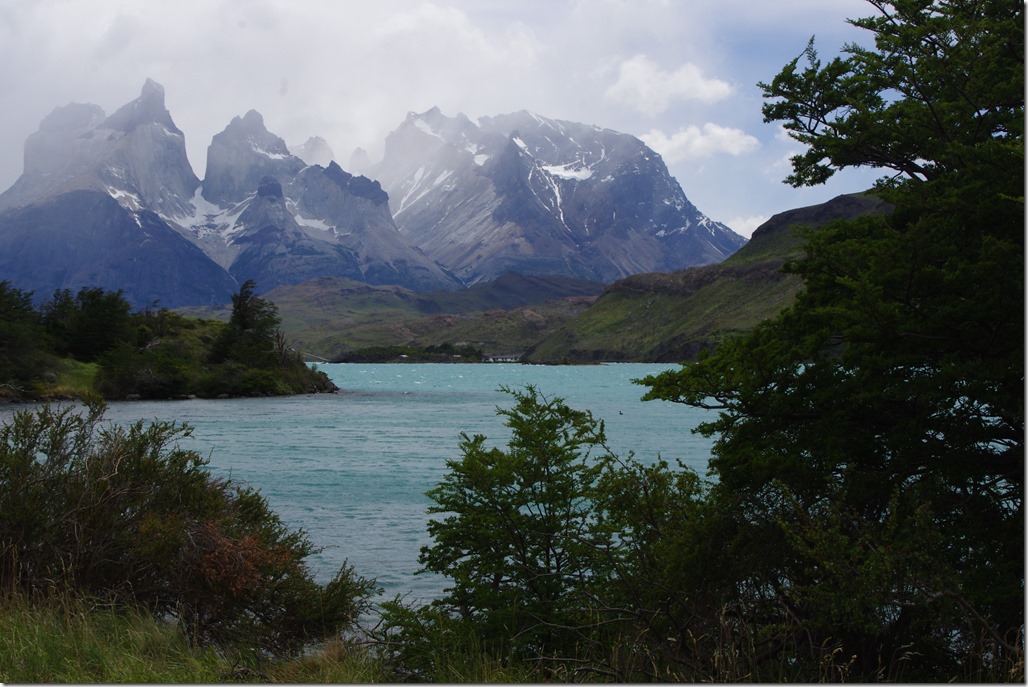 Lago Grey
Our last stop inside the park was at Lago Grey at the end of the Grey glacier. It was here that I realised what had been disturbing me about Torres del Paine since we had arrived. There had been the entry fee, the gravel path at Salto Grande, the restaurant and empty campsite at Pehoé, and wildlife that wasn't as wild as it probably should be. Here at Grey, there was a perfectly well-kept path to follow that took you down to a beach that led to the viewing point looking over the glacier.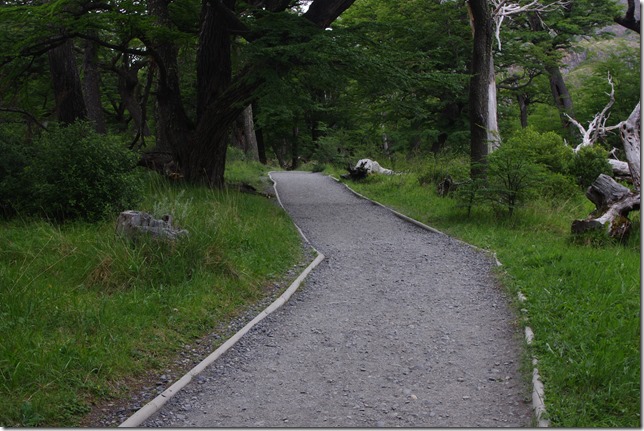 I realised that in an attempt to make the park sustainable given the number of tourists visiting, the park authorities had sanitised the natural elements. I like the wild to be wild, not a regimented place where you are told to keep to a certain track and have toilet blocks provided at every viewing point. Granted, it might be that the nature of quick tours is that you visit the most popular areas, and so had I stayed for longer, I might have uncovered the less spoilt areas, but I don't think so: Back on the Navimag ferry, Percy had stressed the need not to camp in unauthorised areas, and also told us that if you set out on a particular path you have to sign in and out at the start and end of the path, so they know if they need to start a rescue mission.
In a way, the park authorities had tried too hard on safety and sustainability, much like the mass of stainless steel to improve wheelchair access at Fuerte de Niebla.
Lago Grey itself was also a disappointment. The beach where you are encouraged to walk is far too far from the glacier to get a real sense of its size. It's just a mass in the distance. If anyone wanted to see a glacier, I'd have to recommend they go to Svalbard or Iceland instead.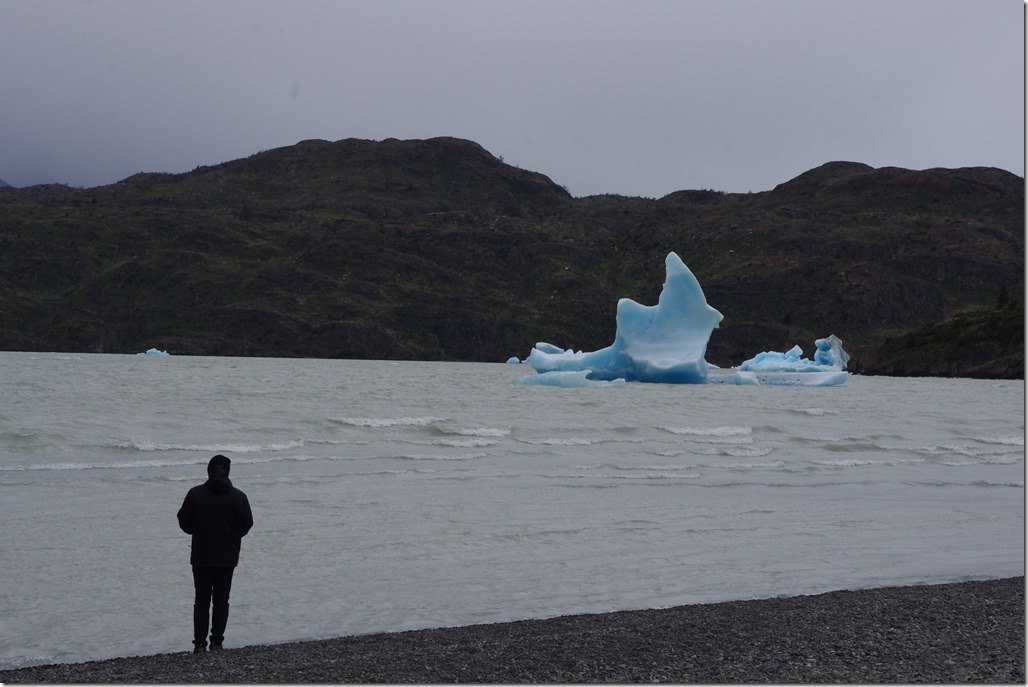 Cueva del Milodón
Outside of the park, we stopped at the Mylodon cave on our way back to Puerto Natales. I'd read on other peoples' blogs before I came to Chile that this cave really isn't worth even the £4 entry fee, and I'd tend to agree. The point of the cave is that it is an archaeological treasure-trove, with many fossilised remains of animals, including Mylodons (a sloth-like creature that became extinct about 10,000 years ago). What makes the cave so disappointing is that there is no hint of the remains there at all. Not a single unearthed fossil has been left in situ. It's just an empty cave with an unconvincing statue of the Mylodon at the exit. And, even in this confined space, there were no fewer than three rangers ensuring that noone strayed from the path and went around the one-way system in the correct way.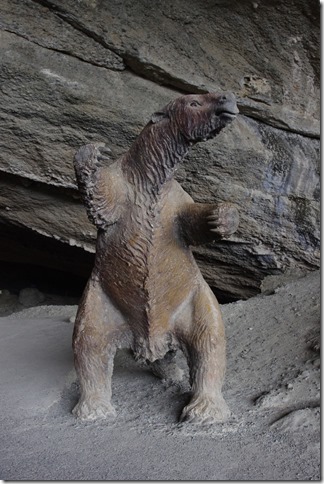 As I say, an interesting day which I certainly wouldn't have wanted to miss, but I'm not disappointed that I move on tomorrow. One can only hope that CONAF (the Chilean National Parks Authority) change their attitude towards protecting the beautiful spaces they manage.