By the nature of this update, this blog post was written as a log while we were underway. As a result, it's a bit long…
Friday, 7pm: In port near Puerto Montt, 41.5°S, 73.0°W
We're on board the Edén, after a lot of waiting around. It turns out the boat was actually moored just down the coast from Puerto Montt, I assume because it was easier to load the cargo there, and so we had an unexpected bus journey from the port at Puerto Montt to the boat, probably about 15 minutes long.
I'm sharing my cabin with Alejandro, a civil servant in the legal service in Seville. At least this should be good for my Spanish. It's a fairly small cabin but probably adequate.
The Edén, we are told, was built in 1984 in France. It originally served as a ferry around Corsica, before it was sold to Navimag in Chile. Indeed, some of the signs around the ship still carry their original SNCM branding.
The boat finally left port at 8:30pm, about half an hour late.
Saturday, 8am: 44.4°S, 73.4°W
It's amazingly calm out. I haven't really felt the boat move all night, although we were doing a decent speed.
After twelve hours on board, I still haven't really figured out how to refer to the Edén. I've been calling it a cargo ship and I think that's still the best description, as cargo takes up most of the space. (Passengers are limited to decks 5 and 6).
The operating company (Navimag)'s website refers, in its English translation,to this route being a cruise. I guess in one sense it is, but this is certainly no cruise liner. For a start, there are only about 60 passengers on board – split roughly between young Europeans on gap years, older couples taking advantage of early retirement, and a variety of French people of all ages (I wonder whether the boat featuring on France 3's Thalassa programme back in September had anything to do with that?). Also, to call it a 'cruise' seems to invite the number of negative comments on online review sites where people have been disappointed, expecting a boat with rather more facilities.
So, it is a ferry, which is what Navimag themselves call it? I don't tend to think of 60 hour+ ferry routes, for a start, and the boat is probably still basic even for that. There's just one option for meals, and the ship itself is getting on a bit and there are some things that obviously need attention, such as the fact that one of the air conditioning vents in the dining room fell off just as we were about to start breakfast this morning! My shower seemed to be missing a shower head too, and some of the toilets don't have locking doors. Oh, and I should mention, the ship is completely dry. No alcohol is permitted at all, which again points to it being a working vessel.
Given all this, I think calling it a passenger-carrying cargo ship is about right!
Anyway, today started with a talk about the route we're taking, given in both Spanish and English by our guide, Percy, which was excellent. Granted, and onboard guide is not a typical feature of a cargo ship though…
Saturday, 2pm: 45.2°S, 73.6°W
We're still remarkably lucky with the weather we're having. It was always going to be a bit of a gamble, as some trips might have nothing but fog and drizzle the whole way down the coast. Not so for us. We currently have bright sunshine and perfectly flat seas. The wildlife is also pretty amazing. I missed the pod of four orcas that were spotted at dawn by the earliest risers, but I've seen plenty of sea lions playing the water, and I've just seen my first dolphin too, although I wasn't quite quick enough with the camera to get it as it breached. There have been a large amount of jellyfish in the clear waters too. Our guide, Percy, tells us that this is unusual and is thought to be related to the warmer seas brought this year by El Niño. In terms of birdlife, a pelican was the biggest surprise of the day.
Saturday, 4:30pm: 45.4°S, 74.5°W
We've turned west to head up Darwin Channel to take us into the open Pacific.  Leaving the lee of the islands means that both the wind and sea state have increased a bit, but it's still OK for now. Apparently there's a 4m swell waiting for us when we get to the ocean, though. As we turned into the Channel, there was a large colony of sea lions visible by a lighthouse.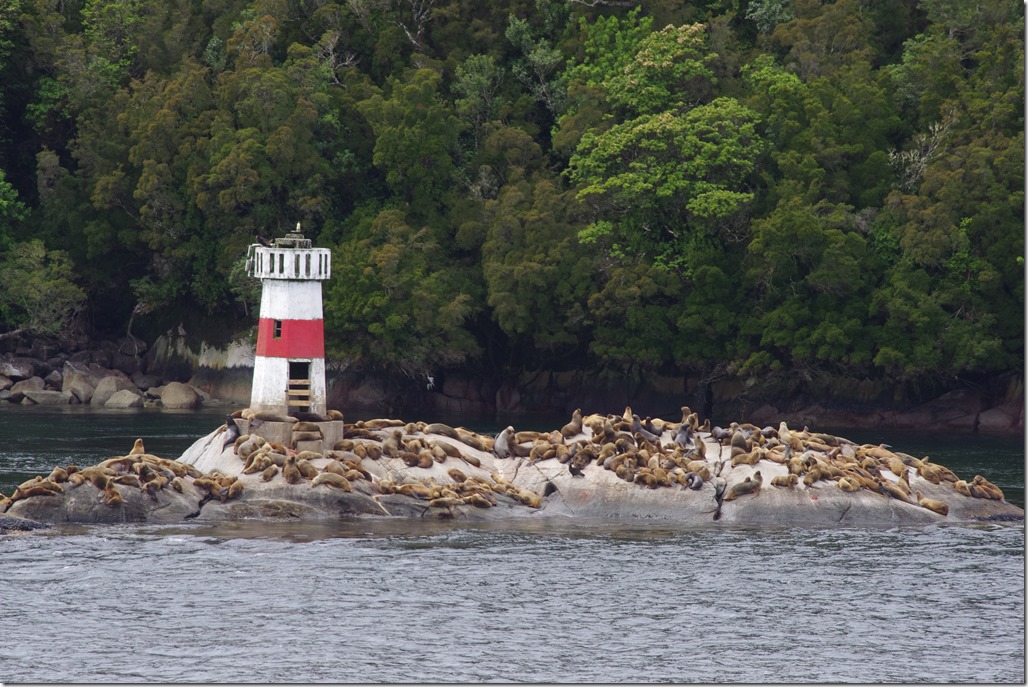 Saturday, 8:30pm: 45.9°S, 75.2°W
Apparently, while I was writing the previous entry in this post, I missed a humpbacked whale that appeared briefly off the side of the ship. Oh well…
We're now in open sea and, the single whale aside, there's less to see now. The Patagonian coast is just a vague silhouette on the horizon. The wind is a northerly, which means it's coming from behind us but the sea is now certainly bouncing us along. Nothing too bad, though; I'd guess it's about a 2m swell.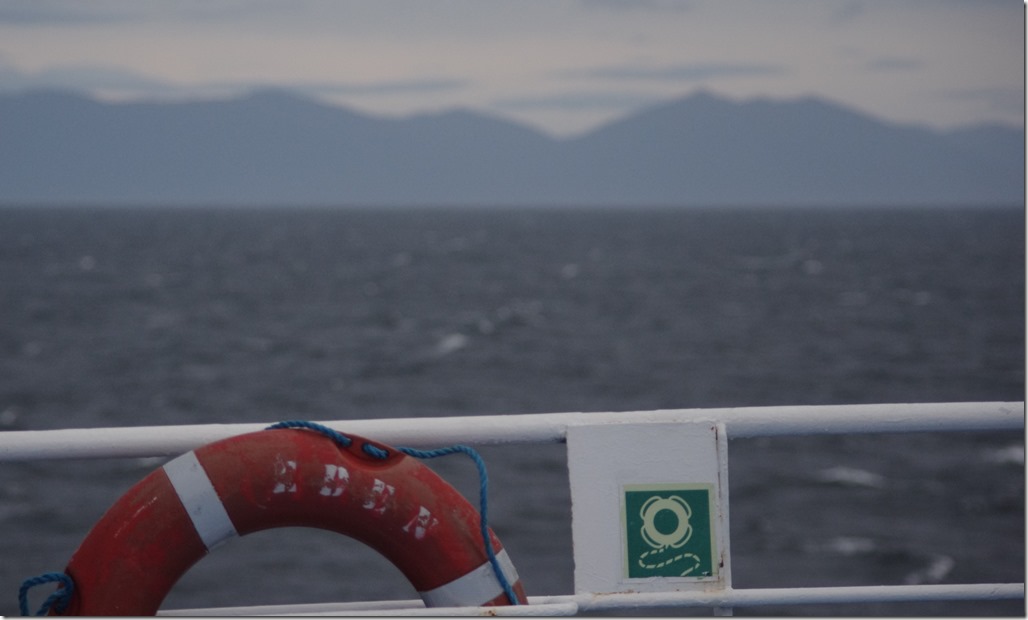 The next few hours, I suspect, are mainly going to be spent in my cabin with the several hours' worth of BBC iPlayer downloads I've been abusing hotel wifi to get over the last couple of weeks, including – very timely – a documentary about Welsh speakers in Argentine Patagonia.
Sunday, 8am: 48.2°S, 74.5°W
I was aware of a lot of rocking of the boat at around 2am but it didn't affect my sleep too much. We've woken to a misty morning with rain but it's calm once again. Breakfast was very runny porridge this morning!
Sunday, 10am: 48.7°S, 74.4°W
The weather is getting better. The mist has lifted into a low cloud and the sun is trying to come out. There's still the odd shower of drizzle around though.
I've been up to the bridge to have a look around. From a radio point-of-view, this was particularly interesting. Despite the fact that almost everything is done over Inmarsat these days, they still have both a VHF Marine Radio (on channel 13) and also an HF set (on 4.14MHz). I also spotted a weather fax receiver, and I know there's a 1kW fax transmitter operated by the Chilean Navy from Punta Arenas, so I asked the Captain about it. He told me that they do turn it on occasionally to test it, but they generally get weather maps from the internet.
Shortly after I left the bridge, we came to the Cotopaxi. This is a wrecked 1930s steamer that was allegedly deliberately run around in one of the channels here in the 1960s as part of an insurance fraud. Cotopaxi marks the entrance to a narrow stretch of water somewhat confusingly named The English Channel!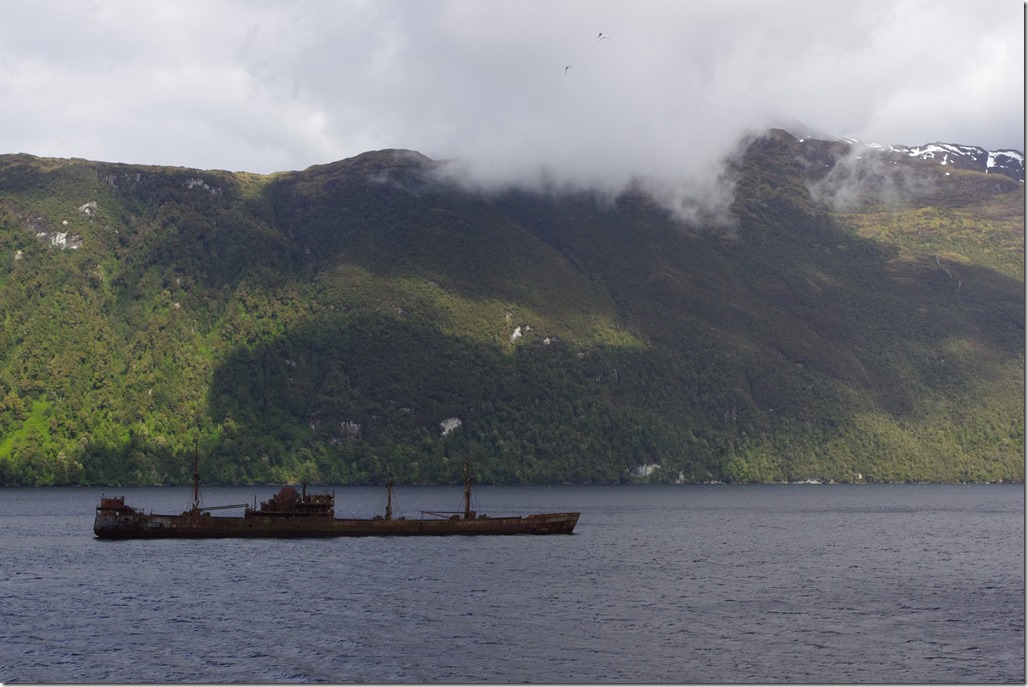 Sunday, 12pm: Puerto Edén, 49.1°S, 74.4°W
Puerto Edén is a settlement on the Patagonian coast that was originally established in the 1930s as a refuelling point for hydroplanes travelling between Puerto Montt and Punta Arenas. It's a remarkably remote place, but it's still inhabited today mainly by people who farm mussels in the fjords around here.
We made a quick 45 minute stop just off the shore. We weren't allowed to disembark but a set of little boats came to us as we arrived. On board those boats were about a dozen new passengers who were joining the Edén, together with the mussels they're carrying to market in Puerto Natales.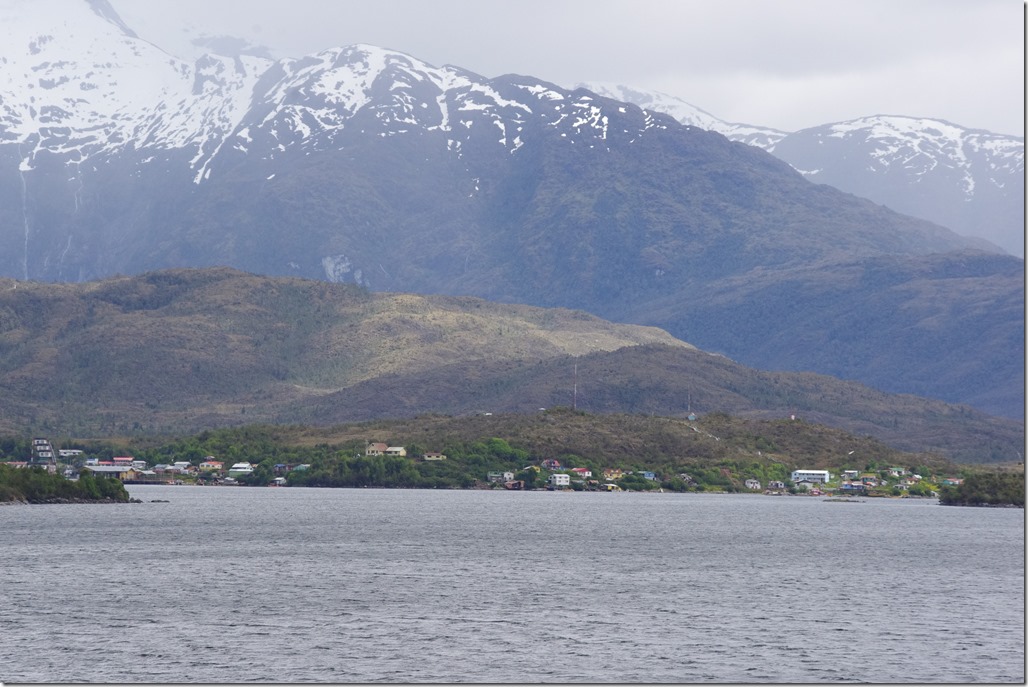 I don't want to sound as though I'm moaning about the food – it's very welcome – but for the sake of anyone reading this who may do this route in the future, I think it's fair to describe what we've had. Lunch today was a salad of shredded red cabbage with a quarter of a tomato, a vegetable soup and bread roll, followed by a main course of a piece of overcooked steak accompanied by an orangey goo, which seemed to be something like tea-flavoured mashed potato with pieces of carrot in it. There was also a piece of fruit. As well as water and tea and coffee, there's also strawberry and orange flavoured squash available, made up from an unappetising-looking syrup that comes in cans.
Sunday, 4:10pm: 49.7°S, 74.4°W
We've been sailing for the last couple of hours through a wide channel with steep mountains on either side. Many of the mountains have snow or even glaciers on top, the melt water from which cascades down as spectacular waterfalls.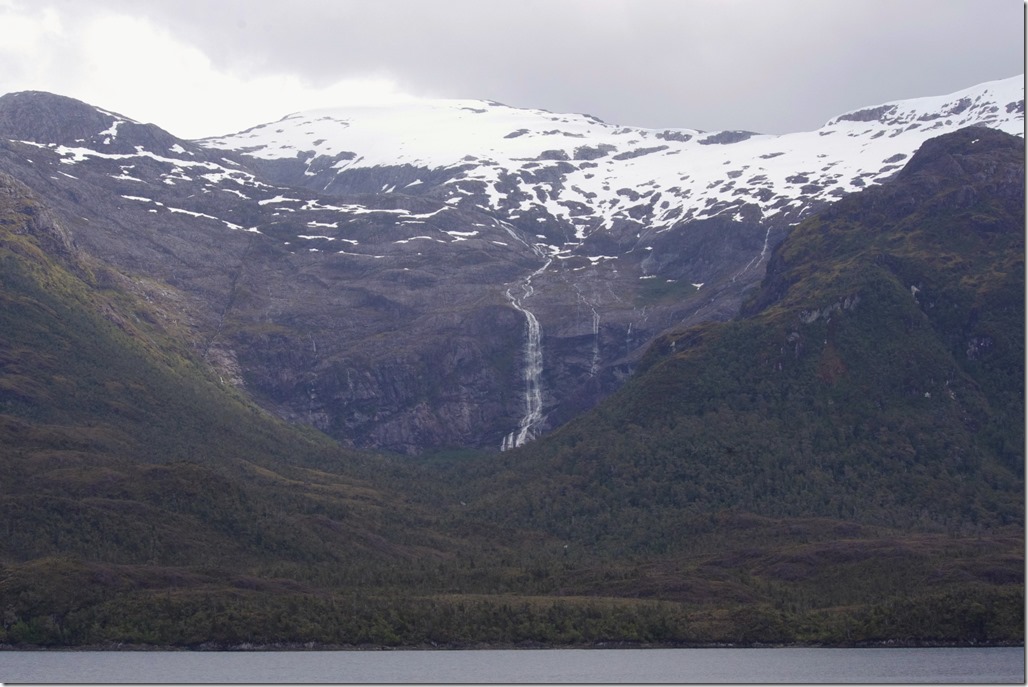 One notable thing about this scenery, though, has generally been the lack of wildlife, other than the odd petrel or gull. Until, there they were: a couple dolphins suddenly jumped up in front of us. Once again, as soon as my camera lens was on them, they disappeared from view, but you might get the sense of their presence just below the water in the photo below.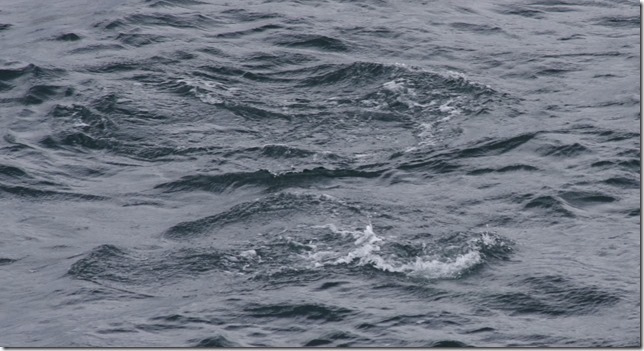 Sunday, 5:20pm: 50.0°S, 74.5°W
A small milestone on my journey. We've passed 50 degrees south. The photo shows the display at this key moment on the Iridium Go! satellite terminal (lent to me by Rob M0VFC – thanks) , which I've been using to keep the map on my website up-to-date, and send tweets from the ocean, amongst other things.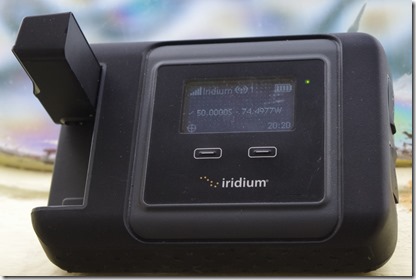 Another talk from Percy to end the day: this time he told us all about the Torres del Paine National Park, since most of the people on the boat are going there, many to spend several days trekking. Sadly my itinerary only gives me one day in the park but it was good to hear Percy's advice nonetheless. Percy also imparted the bad news that strong winds are forecast for Puerto Natales tomorrow. If the winds are above 18 knots, we won't be permitted to dock, so it could delay our entry into the port. However, the Captain is trying to get us there as quickly as possible, in an effort to beat the winds, as a result of which Percy will be waking us up before 6am tomorrow so we get our best opportunity to view whales. Early night tonight, I think
Monday, 5:30am: 52.1°S, 73.2°W
Well, we've all got up but there are no signs of any whales. Instead, we're travelling through what Percy has named 'The Wind Factory' – a narrow channel through which wind is funnelled. It's 65 knots at present, apparently, but the nature of the funnelling means that the sea is still fairly calm. It's a slightly odd sensation struggling to stand on deck while no significant waves are visible.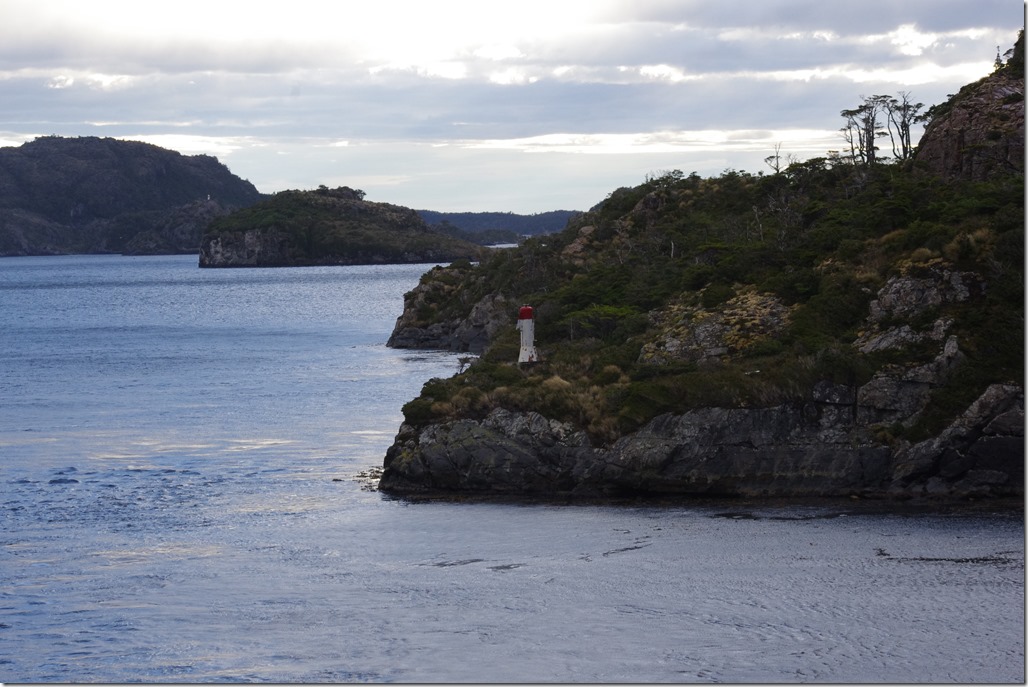 Despite the lack of whales and the bitterly cold wind (it's only about 2 or 3C here at the foot of a large glacier), it has still been worth getting up at this time. There's a fantastic amount of birdlife from albatrosses to petrels to the black collared swan, skewers and more. Percy tells us that we're nicely ahead of schedule too, so once we're out of The Wind Factory we should be ahead of the bad weather that might have disrupted our arrival in Puerto Natales.
Monday, 10am: 51.7°S, 72.5°W
…and so it has turned out to be. Puerto Natales is quite a way inland and up another channel, away from the glaciers and Wind Factory (you'll notice we've gone a bit north since my last update). It's wonderfully calm here and notably warmer too.  We've arrived ahead of schedule by about two hours thanks to the efforts of the captain. It will take us a little while to disembark, and our luggage is being taken down to the main car deck for us, but we should soon be on dry land.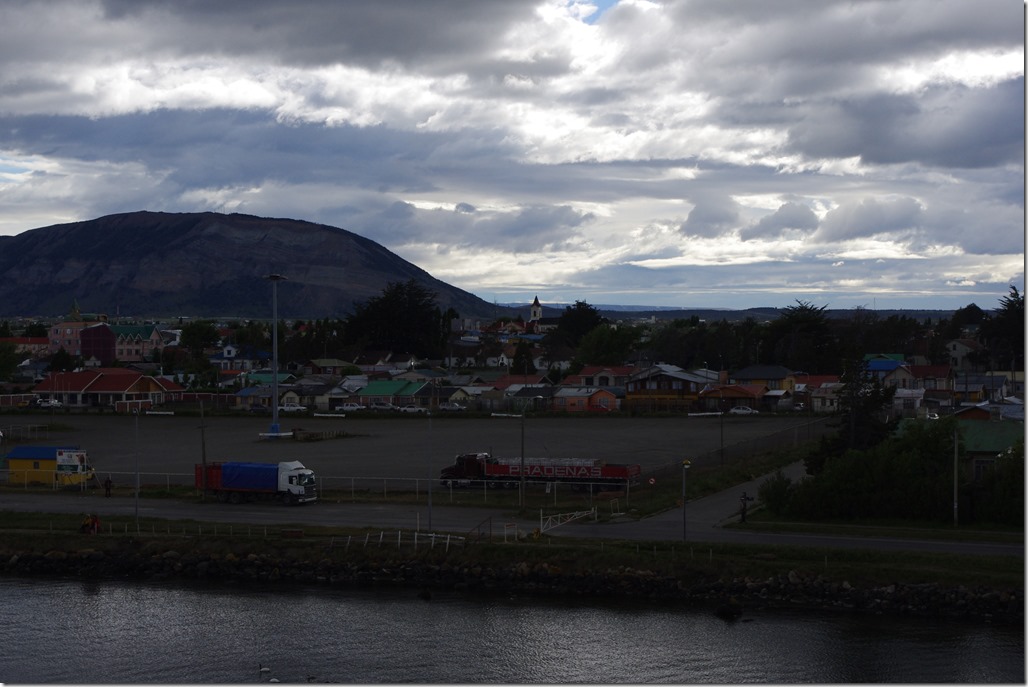 Given my comments above, would I recommend the expensive cost of the ferry journey / cargo ship / cruise? Yes, absolutely. It's a bit of a gamble because if the weather is bad it would be horrendous, but hopefully the photos in this post have given a good sense of the area's outstanding beauty.